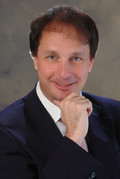 Csaba Parádi at Rubin Informatikai Zrt.
http://www.rubin.hu/en
Bilateral Meetings
15.11.2012 Thursday (09:30 - 12.00)
15.11.2012 Thursday (12:30 - 17.00)

Country: Hungary
Organization Type: Company
Organization Size: 11-25
Founding Year: 1991
Phone: +36 1469 4020
Email: oggolder.emoke@rubin.hu
City: Budapest 1149,Egressy út 17-21 Google map
Areas of Activities
ICT and Electrical Engineering
Telecommunications, Broadcast and Media
Offer
Centralized System Management Solution /SPIRIT EYE
An end-to-end system management solution for full-scale management of networks with a very large number of remote sites allowing high-speed data collection and user intervention.

The primary purpose of Rubin Spirit Eye is to collect alarms generated by devices located at remote sites and transmit those to a management center. The center pre-processes the alarms, detects any correlations, cause and effect interdependencies and then displays filtered information for the user.
The current system can overview thousands of sites equipped with tens of thousands of devices of approximately 100 different types. The system can processes up to 500,000 events a day and the complex correlation logic filters those down to only a few hundred processes requiring human intervention

Output/outcome
• Central management service
• Control of the quality parameters of the network
• Automation of human activities
• Security management on sites (access control, motion and temperature detection)
• Remote configuration
• Remote data collection and intervention
• OPEX reduction:
Reduction of electric power consumption by optimizing air conditioning systems
Workflow / Workforce integration

Cooperation Offered
Technical co-operation
Outsourcing co-operation
Offer
End-to- real -time charging solution /SPIRIT RC
Rubin SPIRIT RC is an end-to-end real-time charging solution supporting integrated, convergent services to clients using mobile, landline, cable or IP technology. Our product fits in the front end and back end telco applications and uses its own provisioning modules to communicate directly with network end-point devices.

Project content
For other products on the market, real-time charging means only real-time administration of transaction fees. Our integrated solution covers a broader spectrum of client management thereby offering a cost-effective solution compared to large, modular billing systems:
- Customer management
- Contract management
- Sales and Service Catalogue
- Partner Settlements and Payment management
- Payment and Recharging
- Instance Rating and Mediation
- Mediation
- Service provisioning

Output/outcome

Our solution enables you to provide complex services to your customers with short time-to-market periods:
- Cross-product promotions. Promote usage of one service by giving discounts on another.
-Loyalty rewards management. Track reward points and redemption plans to encourage customer loyalty.

Cooperation Offered
Technical co-operation
Outsourcing co-operation
Offer
Climate controller
Rubin COOL is a heating/cooling control system designed for server rooms and data centers and providing intelligent climate control by a combination of a number of different procedures. Rubin COOL is a solution that offers high level availability and interference protection expected in the IT industry and is compatible with existing equipment.

Project content

Optimum and energy efficient temperature control of computer rooms using a flexible software and a carefully designed modular hardware. Our innovation economically implements the alternating use of air conditioning and ventilation based cooling. In the meantime we leverage and optimize the benefits of both cooling methods. We have developed a control unit for the system that monitors outdoor and indoor temperatures, the factory parameters of air conditioning and ventilation and controls equipment to reach optimum container temperature and economic operation.

Output/outcome
The effectiveness of Rubin COOL cooling system in numbers*
• Lower energy consumption up to 80%
• Fewer maintenence events of air conditioners 30%
• Fewer breakdowns of air conditioners 45%
• Fewer on/off cycles of air conditioners 70-90%
• Shorter active uptime of air conditioners 40-75%
• Usability of ventilation over the year 80%
• Return on investment in less than 2 years

* data collected from 1000 sites and compared to A/C only cooling

Cooperation Offered
Technical co-operation