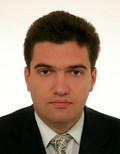 Goran Krstic , Director at Geoinformatika doo
Maps & Apps
Bilateral Meetings
15.11.2012 Thursday (09:30 - 12.00)
15.11.2012 Thursday (12:30 - 17.00)
Geoinformatika doo Belgrade is a newly found company with experienced junior & seniour software developers.
The company is a spin-off from the GIS/IT department of Kartografija Huber doo (a part of the international Kartographie Huber Group, one of the worlds leading providers of maps, offering also consultancy in the fields of geoinformation systems, regional development & tourism consulting).

Since we have been using Apple hardware and software for almost 20 years, our main focus is development of iPhone and iPad Apps (as well other mobile app & web development).

Our second main area of specialization is GIS development, with our different concepts for each field: AgroLIS, AquaLIS, MasterLIS...

- We
carry
out
each
project
with
high
ethic
responsibility
and
support
our
customers

as
critical
partners.


- It
is
our
claim
to
deliver
highest
quality
with
the
most
modern
technology
for
our

customers'
benefit.


Country: Serbia
Organization Type: Company
Organization Size: 1-10
Founding Year: 2012
Phone: +381 11 3032208
Email: goran.krstic@me.com
City: Belgrade 11000,Simina 1, Beograd Google map
Maps & Apps
Maps for print, web & app
• Cartography for Government, Public and Private Sector
• Worldwide Tourism Map Series
• Maps for Phonebooks and Yellow Pages Business-Directories
• Internet Maps, Gazetteers, Directions and Locators
• Cycling Maps
• Military Maps
• Promotional and Advertising Maps

GIS - Geoinformation Systems Development
•Regional development projects with GIS based Local Intelligent Systems (LIS)
•AgroLIS, AquaLIS, MasterLIS

Mobile Apps development
iOS & Android App development
Apps for location-based services