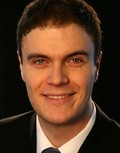 Ivan Markovic , CEO at Loyalster d.o.o.
http://www.getLoyalster.com
Bilateral Meetings
15.11.2012 Thursday (09:30 - 12.00)
15.11.2012 Thursday (12:30 - 17.00)

Reinventing offline shopping experience. Precision retailing for the fashion industry.
Country: Serbia
Organization Type: Company
Organization Size: 1-10
Phone: 38169741232
Email: ivan@getloyalster.com
City: Belgrade 11000,Ruzveltova 1a Google map
Areas of Activities
ICT and Electrical Engineering
Offer
Mobile app development - iOS/Android
Our team has deep insights and experience with Android and iOS mobile applications.
Cooperation Offered
Outsourcing co-operation
Technical co-operation
Request
Seed investment for market expansion - www.getLoyalster.com
Open for discussion regarding seed investments into our innovative marketing platform, Loyalster: www.getLoyalster.com
Cooperation Requested
Investment/Financing